As the pandemic accelerates the shift to online shopping, investors have favoured those retailers with superior e-commerce capabilities as the winners in a post-pandemic world. However, we can still continue to see long-term growth opportunities for some bricks and mortar retailers with differentiated and proven business models. And for us, Ross Stores is a clear example.
Ross Stores (NASDAQ:ROST)
Ross is an off-price retailer of branded apparel and household goods, which has a store network of ~1,830 stores in 39 states across the US and has been in operation since 1950. While Ross does not have an online offer, the company has been able to deliver consistent comparable sales growth and market share gains despite rising online penetration over the last decade. Ross's comparable sales have proven resilient during economic downturns and have grown mid-single digit through the cycle (see chart below).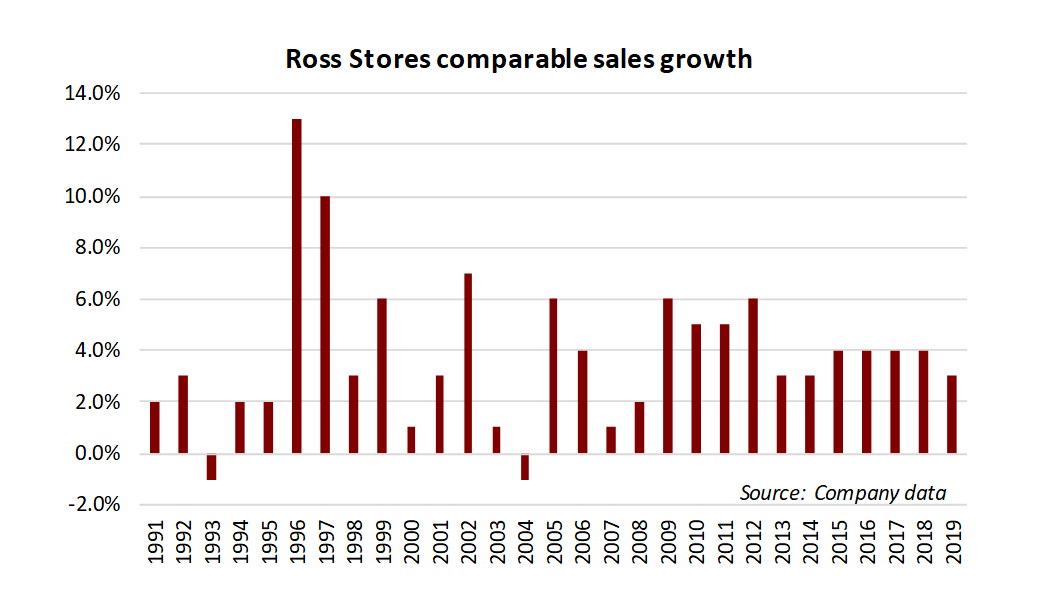 Unique business model
The key to the Ross's success has been the company's unique business model which continues to lure its customers into stores. For Ross, its all about having the right merchandise at the right price point in-store. Ross has built up a reputation for offering branded merchandise at a deep discount, relative to the prices offered at department stores or specialty retailers. Ross can offer low prices by opportunistically buying excess stock from retailers/vendors (typically overruns and cancelled orders) at cents on the dollar and by running a lean, low-cost store network. Even if customers prefer to shop online, it would be hard for them to find similar bargains elsewhere. For vendors, Ross is an efficient and 'invisible' liquidation channel (i.e. Ross does not advertise stocked brands).
A 'treasure hunt' experience
The product range in-store is ever-changing, with stores receiving fresh merchandise almost every day. Importantly, most merchandise is in-season, which is a big differentiating factor compared to factory outlets which typically carry dated stock. This has created a culture of customers 'treasure hunting' across Ross's stores, with the average customer visiting a store two to three times per month, an exceptional level for a discretionary retailer. Furthermore, stores are conveniently situated in off-mall locations.
Ross's high inventory turnover model can resemble that of a fast-fashion retailer, with significantly less fashion risk.This places a high level of importance on merchandising which runs deep within the company's culture, with both the CEO and Chairman (former CEO) all having held roles within merchandising at the company. Ross employs a team of 900 merchants, identifying trends and sourcing merchandise from over 7,500 vendors.
Post-pandemic environment is supportive of Ross's business model
Looking through the short-term impact of COVID-19 related store closures and restrictions, we see Ross as well positioned to continue delivering market share gains. Ross's value offer is likely to resonate even more with customers as unemployment and volatile macro conditions weigh on consumer demand. This was the case during the global financial crisis when Ross's value proposition set the company apart relative to its peers (see chart below).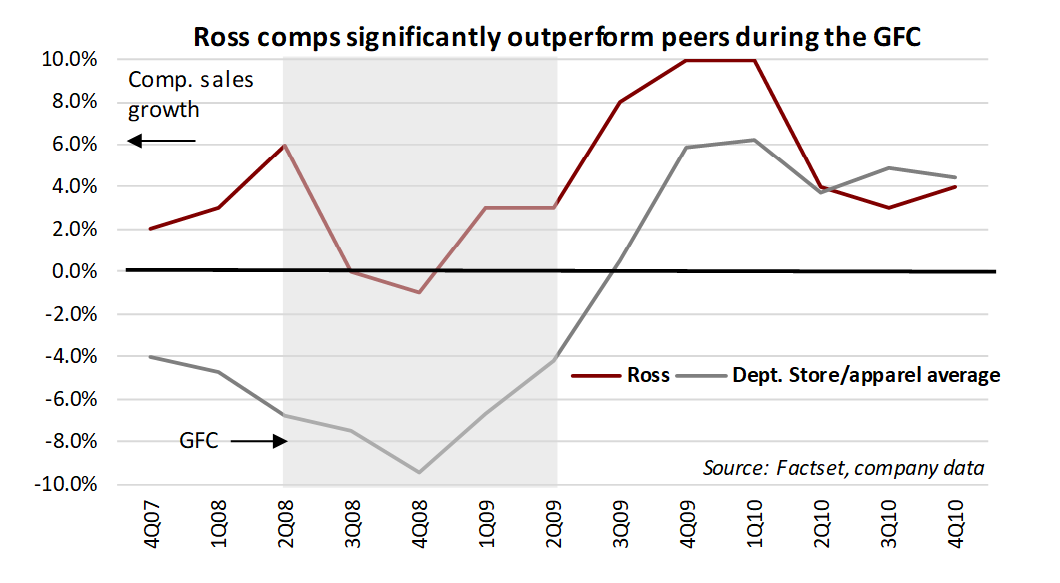 Room for more market share gains
The pandemic has sadly resulted in an increased number of retail bankruptcies and the remaining competitors will likely look to rationalise their store networks further, given the faster shift to online. We see this as an opportunity for Ross to continue to win market share supported by its national store network and ongoing store rollout (adding 90 stores p.a.), which should help fill emerging supply gaps. Meanwhile, the disruption will likely give Ross access to even larger amounts of discounted inventory.
Ross firmly fits our investment criteria
We see off-price as a unique and proven business model in retail. Ross in our view is a defensive, quality compounder that shows all the qualities we look for in companies i.e. leading market position, strong value proposition that underpins resilient sales growth and a loyal customer base, experienced management team and a strong balance sheet to support growth opportunities (net cash position).